Archeological Tour - Awash, Harar & Diredawa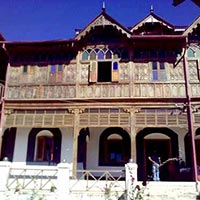 Archeological Tour - Awash, Harar & Diredawa
Package Duration

5 Days / 4 Nights

Destination Covered

Awash - Harrar - Diredawa - Addis Ababa
Description :

The ancient walled city of Harar was for many centuries a major commercial centre. Trading with the Ethiopian interior, the Gulf of Aden ports, and many Eastern lands, it had its own language, Harari, or AdarC, which was spoken only within its walls, and issued its own currency. The city was moreover also great center of Islamic learning. It was further more renowned for its remarkable handicrafts, notably its fine weaving, and its beautifully-bound manuscripts. These were rated as virtually without equal in the Islamic world.
Visitors to Harar should inspect the city's unique housing, the colorful dress of its inhabitants, and its stout old walls. These latter were built, in the mid- sixteenth century, by one of Harar's most notable rulers, Amir Nur ibn al-Wazir Mujahid.

Package Includes :

Entrance Fees
Guiding service
Accommodation with breakfast
Guiding service
Ground transportation with transfer services

Package Excludes :

Tips and personal expenses
Photo and video fees
Air ticket
Visa fees




Day 1: Arrival Addis Ababa

Meals: Lunch Dinner




Arrival Addis Ababa, meet and greet, transfer to your hotel. Afternoon visit
Haile Selassie's former palace which is the now home of the Ethnological Museum. Exhibits here represent the best of the arts and crafts of the country and give an in-depth insight into the various peoples of Ethiopia
National Museum, known to be the best museum in Africa, where cultural and archaeological relics, including a plaster cast of "Lucy," the 3.2 million-year-old Hominid, are displayed.
At the end of the day you will see the Mercato, eastern Africa's largest market.

Day 2: Visit Addis Ababa

Meals: Breakfast Lunch Dinner




Drive from Addis early morning to Awash National park through the industrious town of Nazareth and enjoy volcanically formed calderas, Cone shaped mountains and the Savanna grass land of east Africa in the rift valley system and different kinds of birds life's like secretary bird, bustards, vultures etc and animal life including Oryx, Gazelle's kudu, water back. Awash waterfalls and the hot water spring are also some of the other attraction in Awash and hot springs.

Day 3: Drive through the Awash valley

Meals: Breakfast Lunch Dinner




Drive through the Awash valley and eastern escarpment of the rift valley to the old town of Harrar; Hyena man show at the evening.

Day 4: Full day city tour of Harrar

Meals: Breakfast Lunch Dinner




Full day city tour of Harrar to visit, Muslim culture that dates back to the 7th century, Museums of Harrai house and walled town of Harrar, both the Christian and Muslim culture.
In late afternoon drive to Dirdewa visiting on your way the chat market and coffee & Chat plantation.

Day 5: Fly back to Addis Ababa

Meals: Breakfast Lunch Dinner




Fly back to Addis Ababa, farewell dinner at Ethiopian traditional restaurant with live music, transfer out to Airport.






Latest Tour Packages by
Horizon Ethiopia Tour and Travel Plc