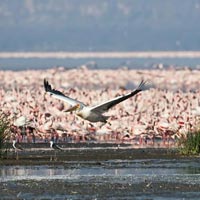 Birding in Kenya Tour
Package Duration

12 Days / 11 Nights

Destination Covered

Amboseli Goliath Heron - Tsavo East - Tsavo West - Lake Jipe - Amboseli - Lake Nakuru - Masai Mara - Arabuko Sokoke Forest - Mida Creek - Sabaki River - Mouth - Nairobi - Kakamega - Meru - Kisumu
Starting Price :

On Request
Description :

Kenya's birds stand a record 1010 recorded species scattered all around the varied habitats ranging from the coastal shoreline,the vast semi-arid plains inland,rivers,inland lakes,forests,grasslands and mountains and having the advantage of almost a
Tsavo East Species likely to be seen throughout the year include; Hunters Sunbird, Golden-Bellied Starling, Tawny Eagle, White-Backed Vultures, Kori Bustard, Pale Chanting Goshawk, Bateleur Eagle, Red-Billed Hornbill, African Grey Hornbill, Whalberg's Eagle, Spotted-Eagle Owl, Taita Fiscal, Red & Yellow Barbet, D'Naurd's Barbet, Spot-Flanked Barbet, Fisher's Sparrowlark, Long-Billed Pipit, Rosy-Patched Bush Shrike.
Tsavo West/Lake Jipe
Species likely to be seen include: Broad-Billed Roller, Crowned Hornbill, Hilderbrand's Francolin, Crested Guinea Fowl, Giant Kingfisher, Brown-Breasted Parrot, Black-Faced Sandgrouse, Variable Sunbird, Southern Banded Snake Eagle, Common Ostrich, Taveta Golden Weaver, Green Woodhoopoe, Golden-Winged Starling, Gabar Goshawk, White-Headed Vulture
Amboseli
Species likely to be seen include: Great White Egret, Sadle-Billled Stork, Egyptian Plover, Blacksmith Plover, Verreaux's Eagle, Wattled Plover, Tawny Eagle, Eurasian Roller, Black-Shouldered Kite, Lizard Buzard,
Lake Nakuru
Species highlights include: Lesser Flamingo, African Cuckoo, Red-chested Cuckoo, Sooty Chat, Ant-eating Chat, African Fish Eagle,T wo-Banded Courser, Tawny Eagle, Verreaux's Eagle, Knod-Billed Duck, Spurwing Goose, African Darter, Greater Cormorant, Greater Pelican,Red & Yellow Barbet, Rupell's Starling, Golden-Winged Sunbird, Red-Billed Oxpecker, Yellow-Billed Stork, Open-Billed Stork, Hooded Vulture etc.

Masai Mara
Species highlights include: Hartlaub's Turacco, Greater & Lesser Kestrel, White Stork, Yellow-mantled Bishop, Black-bellied Bustard, Heuglin's Courser, Two-banded Couser, Jackson's Widowbird, Rupell's Starling, Eurasian Hooby, Little Bee-eater, Slate-coloured Boubou,etc.

Mt. Kenya
Species highlight include: White-eyed Slaty Flycatcher,Paradise Flycatcher,Cabanis Greenbul,Tacaze Sunbird, Baglafetch Weaver,Ross Turaco,Kikuyu White Eye,Hamerkop,Little Grebe,Great-Crested Grebe,African Finfoot,Fulvous Ducks etc.

Arabuko Sokoke Forest
Species highlight include: Amani Sunbird, Clarke's Weaver, Sokoke Scops Owl, East Coast Akalat, Nicator, Narina Trogon, Thick-billed Cuckoo,B ue-mantled Flycatcher, Crowned Eagle, Marshal Eagle, Ayre's Hawk Eagle, African Hawk Eagle, Retz's Reb-billed Helmet Shrike, Dark-Backed Weaver etc.

Mida Creek & Sabaki River-Mouth
Species highlights include: Crab Plover, Whimbrel, Eurasian Curlew, Mongolian Sandplover, Sanderling, Avocet, Black-backed Gull, Gull-billed Tern, African Skimer, Roseate Tern, Madagascar & Colared Pratincole, Saunder's Tern, Bar-tail Godwit, Lesser Flamingo & Greater Flamingo, Curlew Sandpiper, Osprey, Sooty Gull etc.

NAIROBI
The parks exceptional bird life records a remarkable 400 species, their numbers swell between march-may when a host of European bird migrants make the park their home. look out for the marabou storks, vultures and hawk Eagles perished high in the acacia trees and on the grasslands for secretary Birds, Kori Buster, Ostrich, Crowned crane and the gorgeous Jackson's widow bird. For bird lover's, there is so much more than can be mentioned herein.

KAKAMEGA
As far as birds conservation is concerned Kakamega reseve is one of the important birds area (IBA) in Kenya with a prolific record of over 330 species.

Turners, Eremomela, Blue headed Bee-eater, Ansoger's Greenbul birds are found only in Kakamenga Forest and neighbouring south Nandi Forest in the whole of East Africa.

Other birds to be found only in this and nearby forests in Western Kenya include Black-billied turaco, Red -bellied paradise flycatcher, Chestnut, Jameso's and yellow-bellied wattle-eye, Southern Hyliota, Africa shrike flycatcher, white-tailed Ant-thrush, Petit's cuckoo-shrike and cassin's honeyguide.
MERU

Meru's bird are abundant and colourful; Common river birds include Ibis, Heron and African Fish Eagle while the riverine acacia woodland shelters, the smallest of the long tailed in birds, the Black-bellied sunbird. Flocks of glorous golden breasted starlings are also often encountered as well as loudly honking groups of hornbills.

KISUMU
Over 115 species have been recorded. ndere Island the papyrus swamps around lake victoria contain a unique selection of water birds.




Package Terms & Conditions :

NOTE:

After agreement ,we shall send you the company account for Chaz Tours & Safaris.DO NOT SEND MONEY TO A PERSONAL ACCOUNT.

Reservation:

A deposit of 40% of total safari cost is required at the time of booking and balance to be paid in dollars the day you start your safari or the day we pick you from the airport. Credit Card: Reservation is 40% (US dollars) if you wish to pay your balance by credit card please note that there will be 3% surcharge which is charged by the bank. Cancellation: Any monies paid will be refunded less the cost of cancellation fees levied by hotels or food expenses and administrative costs, below No of days Percentage forfeited of tour price 40 - 5 days Full refund less 5% administration fee Less than 5 days and no show No refunds Rates: Included are all expenses in respect of vehicle and driver guide as per itinerary, meals While On Safari, entrance fees to National parks and Game reserves.

Transportation:

Cars, minibuses, 4x4 cruisers or coaches will be provided depending on the tour chosen.

 

Accommodation:

Based on two persons sharing a twin room / tent: where possible rooms with private bath are requested. Single rooms are available at an additional cost and can be guaranteed on request. Hotel /lodges are named as an indication of category and rooms may be reserved at similar hotels/lodges.

Alteration to tours:

The company reserves the right to alter arrangements or cancel the operation of a scheduled tour should conditions necessitate. It also reserves the right to decline to accept or retain any person as a member of any tour at anytime, in which case an equitable amount will be refunded. Price are based on tariffs and other costs prevailing at the time of printing and are subject to change without notice. Liability: The company and its agents act only as agents of the tours, transport, etc. And shall not be liable for injury, delays, loss or damage in any manner. The companys liability to passengers carried in its own vehicle is governed by the laws of the country in which the tour takes place and no other country. All claims are subject to the jurisdiction of the courts of the country in which the actions arises. The company reserves the right to employ subcontractors for all or part of the services. The company shall not be held responsible for any loss or damages to luggage.





Latest Tour Packages by
Chaz Tours