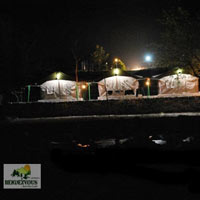 White Water River Rafting Tour
Destination Covered
Price Per Person

Rs 1,800
Other Benefits (On Arrival)

Description :

Welcome Drink And Refreshments.
River Rafting ( 16-18 Kms). Shivpuri.
Cliff Jumping.
Body Surfing.
Trekking To The Famous Beautiful Waterfall.
Natural Swimming Pool @ Huel River.
3 Meals From The Moment Of Check In (B/F, Lunch, Dinner).
Morning Tea And Evening Tea.
Evening Snacks & Moactails.
Campfire By The Side Of The River.
Games-(Volleyball, Badminton, Water-Sports And Other).
Luxury Camps With Sharing Accommodation.

Package Excludes :

Full & Final Payments Will Be Made Before Journey.
Agencies Are Authorized To Change The Tour Programmer Under Unavoidable Circumstances.
In Case Of Cancellation Made Be The Passenger Within Last 24 Hrs. Of The Departure Of Journey Advance Amount With Be Liable To Be Forfeited
During The Complete Journey Period All Risks To The Life And/Or Luggage Property Of The Passenger'S Would Be To His/Their Own Account.
In Case Of Road Blocking Due To Landside Etc. Our Bus/Taxi Shall Wit For Clearance Of The Road But If Any Passenger'S Choose To Proceed Further Of His/Their Own, We Shall Not Be Liable For Any Refund Of Fare.
If The Passengers Return Back Before Time According To Agreement, By Their Own Wish, No Refund Of Amount Will Be There.
List Of Passenger'S/ Name Of Family Members, For L.T.C Purpose, If It Is Required, Will Be Issued Separately.
Disputes, If Any, Would Be Subject To The Distt Pauri Gharwal (Uk).
Booking Will Be Confirmed Only After The Payment Of Advance Is Made.
Any Meal, Activity Or Service Not Availed By The Client, Will Not Be Adjusted In The Package Cost.
Total Decided Package Cost Will Not Be Affected If There Is Any Reduction In The Number Of Persons.
We Are Committed To Provide The Services As Per The Contract Of The Package Tours Under Normal Circumstances Only. All Tour And Land Arrangements Are Subject To Our Inability To Provide The Same As A Result Of Acts Of God, Acts Of Governments Or Authorities, Wars, Hostilities, Civil Disturbances, Strikes, Riots, Epidemics, Quarantines, Delays In Construction Or Completion Of Facilities Or As A Result Of Any Other Causes Beyond Our Control. We Incur No Liability To Provide Any Services Confirmed, If Such Inability Is Due To Any Of The Causes Listed Above And No Refund Shall Be Made.
We Reserve Rights Of Changing The Itinerary For Smooth Operations Or To Enhance The Guest Experience. In Case Of Alternation, Omission Due To Reasons Beyond Our Control (Although Every Effort Would Be Made To Provide The Services As Per The Schedule) Will Not Be Liable For Any Claims. We Will Not Be Held Responsible For Any Loss, Damage, Accident, Death, Injury Etc; Of Any Nature. There Shall Be No Refund In The Event Of Delays Or Cancellations Cause'S Shortened Trips.
Package & Cost Is Based On A Minimum Strength Of 08/14/16/18/24 - Pax.
Type Of Accommodation For Nights/Days As Specified In Chosen Itinerary.
To And Fro Travel By Transport As By Guest/Client.
All Meals As Specified In The Itinerary.
Sightseeing, Excursion As Specified In The Itinerary.
Not Responsible We Are/Staff/Firm Miss Your Thing (Like Mobile/Camera/Watch & Any Other)
Dry Fit Toilet/Toilet Paper
We Are Advise To You Not Able To Join Package If Your Any Under Medical Treatment (Like Diabetic, Fit, High & Low B. Presser, Vertigo, Asthmatics, Heart Problem, Any Surgery & Other Any Tribal Your Owen Responsibility.
Your Personal Leagues Carry Your Self.
We Do Not Have Any Insurance Policy Covering The Expenses For Accident, Sickness, Loss Due To Theft, Or Any Other Reasons. Visitors Are Advised To Seek Such Insurance Arrangements In Their Home Country. All Baggage'S & Personal Property/S At All Times Are At The Client'S Risk.
Toll Tax, Parking, Driver'S T.A. & Service Tax Will Be Paid By Passenger.
There Are Only B.S.N.L Network Working.
Carry ListBack Packs Or Safari Waterproof Bags Only, A Pair Of Good Quality And Comfortable Sports Shoes (Must Already Be In Use For Min.10 Days), 2 Pairs Of Cotton Socks, Slippers, A Torch, Cap, Trek Suit, 1 Pair Of Shorts, 3 Pairs Of Comfortable And Sturdy Wear For Change, A Jacket And Pullover During Winters), Toilet Accessories, Light And Nourishing Snacks, Diary And Pen, Personal Medicine, Camera/Binoculars.
Travel InsuranceWe Recommend Our Clients To Take Travel Insurance For Their Travel Risks.
Cancellation PolicyCancellations Made Beyond 30 Days Will Qualify For A Full Refund After Deducting Bank/Credit Card Charges If Applicable. Thereafter, Refund Shall Be Made As Follows:50% Of The Total Amount Charged If Canceled 2 Weeks Prior The Trip.75% Of The Total Amount Charged If Canceled 1 Week Prior The Trip.100% Cancellation Charge In If Canceled Less Than 1 Week Of Travel/Postponement Of The Trip / No Show.







Latest Tour Packages by
Rendezvous Rafters Camp