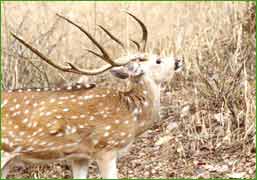 Overview
Area Covered-
44.06square.kilometers.
Best time to visit-
November-March.
Location-
the sanctuary is located in the district of Sonitpur, Assam.
Know Bura-Chapori Wildlife Sanctuary!
Bura-Chapori Wildlife Sanctuary is located along the northern banks of Brahmaputra, in the district of Sonitpur, Assam. The sanctuary covers an area of around 44.06sq.kms and abounds in natural vegetation cover. It is an ideal place for all those who want to spend their time far away from the hustle and bustle of the city life. The beautiful hills of the Himalaya mountain ranges along with the fast flowing water of the Brahmaputra river lends the place an enchanting ambience.
Wildlife at Bura-Chapori Wildlife Sanctuary!
The place is very rich in natural vegetation cover and comprises of various species of plants & trees that are hard to find somewhere else. The sanctuary also offers shelters to a wide array of animals like the Great Indian One horned Rhinoceros, Wild Boar, Civet Cat, Asiatic Buffalo, Barking Deer, Leopard Cat, Otter and many more. One can also find here the famous Bengal Florican and Ferruginous Duck along with several other migratory birds.
Accessibility
Rail-
The closest railway station is situated at Rangapara.
Air-
The closest airport is located at Salon.
Road-
One can easily get a bus from Tezpur that would take one to the sanctuary.