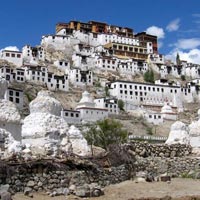 Day 1 :

Arrival at Jammu - Srinagar

Day 2 :

Srinagar - Sonamarg

Description :

sightseeing

Day 3 :

Sonamarg - Kargil

Description :

sightseeing

Day 4 :

Kargil - Leh via Lumayura

Description :

sightseeing

Description :

Local Sightseeing

Other Benefits (On Arrival)

Package Excludes :

Entrance fees to monuments. Permit at Leh @ Rs. 400/- per person.
Meals other than mentioned above.
Expenses of personal nature (laundry, telephone, etc)
Airfare, Tips, gratuities, Insurance.
Alcohol, soft drinks, bottled water, beverages, etc.
Any costs arising out of unforeseen circumstances like landslides, road
blocks, bad weather, Political Strike etc.
Any charges for carrying still/video camerac




Package Terms & Conditions :

Carry your Govt. Photo Identity proof along with you other's also. Aabhuti travels & holiday's does not accept responsibility for any change in prices or variation of services as shown, and all services and prices are subject to change without notice. It is essential that you check with us, or your travel agent, for any changes or variations to the information shown on our web sites. This will allow us to advise you, or your agent, of any such changes that we are aware of either before you book your holiday, or prior to your departure. Bookings made less than 45 days prior to travel: Bookings made within 45 days of travel must provide a credit card guarantee at the time of booking. Card Fees: Please note that a card fee will be applied automatically to credit card payment amounts:2.00% - MasterCard, Visa. 3.3% - American Express Payment Processing Terms & Conditions: By providing your credit card details and accepting our Terms & Conditions, you authorise Aabhuti Travels & holiday's to arrange for funds to be debited from your nominated credit card, in accordance with the terms & conditions of the Direct Debit Request Service Agreement (DDRSA) as amended from time to time. Your bank or credit card provider may apply currency conversion fees. Credit Cards are required to secure bookings if you are travelling within 14 days. Final payment must be paid immediately when requested prior to travel date. No vouchers will be issued until final payment is received in our office. Cheque payments: Will only be accepted for bookings travelling outside 50 days. Payments made by cheque or direct deposit do not attract any fees. American Express refunds will be less 3.30% as American Express keep the credit card fee. All other card companies refund the fee. Cancellations must be in writing and should be addressed to the consultant handling the booking. If a credit has been approved it is valid for 6 months from the date the cancellation was made. Flight Cancellation Policy: Flights booked on this website are governed by the terms and conditions of the airfare you purchased and are determined by the Airline. In most cases, airfares are fully non-refundable and non-transferable. Airline charges or part or full cancellation fees may apply to your particular airfare. A Travel Consultant will help you wherever possible within these terms and conditions. Special Cancellation Conditions: Certain accommodation and tour products will apply additional cancellation charges. These cancellation conditions and costs are located under the pricing on the individual pages and will be clearly advised to you in writing at time of booking Credit Card Chargeback Fees: Any fees charged to Aabhuti Travels & Holiday's by our credit card payment provider arising from a chargeback or a disputed charge on the cardholder's credit card will be charged to the cardholder. This fee is non-refundable.





Latest Tour Packages by
Aabhuti Travels