Warm Greetings from Oppex Holidays Package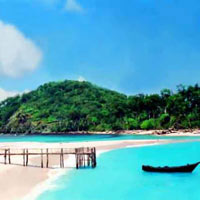 Warm Greetings from Oppex Holidays Package
Package Duration

5 Days / 4 Nights

Destination Covered

Andaman - Excursion To Elephant Beach - Havelock - Beach No 7 - Port Blair - City Tour - Ross Island
Package Includes :

Meet And Greet Service At The Airport.
Std Ac Rooms At Port Blair And Havelock, Unless Specified.
Daily Breakfast Except On Day Of Arrival. The Day You Check In To The Havelock Hotel Breakfast Is Not Included And We Request All Guests To Pack Breakfast From The Pb Hotel In case You Are Taking The Early Morning Govt Ferry.
Sightseeing In An N/Ac Car At Port Blair And N/Ac Jeep At Havelock As Per Selected Itinerary.
Entry Tickets & Boat Tickets At All Sightseeing Points Mentioned In The Itinerary.
Snorkelling Equipment At Havelock During Eco Tour As Mentioned.
Hotel Tax Of 7.42% Gst

Package Excludes :

Above Rates Are Not Inclusive Of The Following:
Airfare/ Ship Fare From Mainland
Lunch & Dinner At Respective Hotels.
Snorkelling Equipment During Wandoor Excursion (Jolly Bouy Or Red Skin)
Camera Charges At All Sightseeing Places.
Personal Expenses Of The Guest At Port Blair & Havelock.
Vehicle At Disposal. For The Trip To Radhanagar Beach The Car/Jeep Will Drop The Guest And Return Back At The Fixed Time To Pickup The Guest.
Any Extra Excursions Or Sightseeing Apart From Suggested Tour Itinerary.
Optional Activities As Mentioned As Add Ons.




Day 1: Arrive Andaman

Meet and greet at the Port Blair Airport. Port Blair city is a small town and hence the guest can after relaxation take a leisurely stroll in the Port Blair market. At 1230 hrs the car will arrive to pick up the guest and drop for the afternoon ferry (1400 hrs) ferry from Port Blair - Havelock. The ferry takes 2.5 hrs to reach Havelock. On arrival proceed to selected hotel. Evening at Leisure. (Kindly carry bottled water and snacks for the govt ferry trip as the ferry does not have any refreshment counter).

Day 2: Excursion to Elephant Beach

(Car will come at 0700 hrs and please ensure you are ready as the boat will leave at 0730 hrs and it is a further 10 min drive away to the boat) Embark on the most memorable snorkelling trip,
just 25 min by Boat this beach offers snorkelers calm blue shallow waters and is the perfect spot for beginner snorkelers. The boat goes right up to the beach and it's so easy to slip on your gear and just start snorkelling. It's also a great place to just spend the day lying on the beach and relaxing. The beach is very scenic with fallen trees and white sand giving the photographer some interesting shots. The reef here starts very close to shore at a depth of about 1 metre. The large reef is mostly made up of hard coral and has plenty of marine life.

Day 3: Havelock - Beach No 7 - Port Blair

In the morning proceed to Beach No 7, Radhanagar beach rated as the best beach in Asia. Spend the day relaxing on this beach. (N/Ac Car/ Jeep will be provided for pickup and drop; time spent 2-3 hrs) Return from Havelock Island in the evening by Govt ferry and transfer to hotel in Port Blair. Evening at Leisure. (Do note that all hotels on Havelock have a early morning check out time and late check out is provided at the discretion of the hotel management) Request you to kindly keep the luggage ready and leave it at the reception before proceeding to Beach No 7.

Day 4: Port Blair - City Tour, Ross Island & Sound and Light show

After breakfast, start for a tour of places in & around Port Blair (City Tour) - covering the famous Cellular Jail*( a witness to the freedom struggle), Chatam Saw Mill (one of the oldest & largest in Asia), Forest Museum, Anthropological Museum, Fisheries (Marine) Museum, Naval Marine Museum (Samudrika) and the Cottage Industries Emporium (Sagarika) - for shopping & souvenirs. After lunch visit Ross Island which is about 2 km east of Port Blair and can be reached by a short boat ride from Water Sports Complex (Ferry leaves at 1400 hrs.
and returns at 1600 hrs). The island is controlled by the Indian navy, which requires every visitor to sign in on entering. In the evening, attend the enthralling Sound and Light Show at Cellular Jail - where the heroic saga of the Indian freedom struggle is brought alive.

Day 5: Departure

Depart Port Blair with Fond memories of these mesmerizing Islands.

Package Terms & Conditions :

Kindly Note: Ross Island Is Closed Every Wednesday. Anthropological Musuem, Fisheries Musuem, Cellular Jail, Samudrika, Mahatma Gandhi National Park Is Closed On Monday And National Holidays. Chatham Saw Mill, Forest Museum And Mini Zoo Is Closed On Sunday And National Holiday. Though It Is Our Endeavour To Stick To The Tour Plan In Order To Accommodate The Above Days We May Shift The Tour Plan Accordingly. Port Blair Hotel Check Out Time: Most Of The Hotels Have An Early Check Out Time And We Do Not Have Any Control Over The Same. Incase There Is Not A Heavy Rush The Hotel Management May Extend A Late Check Out At Their Discretion. Guests Will Need To Honor The Check Out Time As Per The Hotel Policy. Kindly Note That Only Barefoot At Havelock Is Located On Beach No 7 ( Radhanagar Beach, Rated As The Best Beach In Asia) And All Other Hotels Mentioned Are Located On Beach No 5 & 3 Around 08 Kms Away From Beach No 7. Please Note That The Jolly Bouy Or Skin Island Snorkelling Trip Rate Is Only Applicable For Indian Nationals For Foreigners There Is A Further Charge . Port Blair & Havelock Hotels Have Early Check Out Times And Request You To Note The Same Accordingly. We Do Not Have Any Control Over The Same And Request Guest To Co Operate On The Same. The Government Ferry Which Is Used To Travel Between Port Blair – Havelock Takes Between 02-03 Hrs Travel Times. It Is Our Endeavour To Guarantee The Best Seat On This Ferry But Having A Capacity Of Only 100 Passengers Sometimes Getting Preferred Seats Is Difficult Though We Will Ensure That The Guest Is Boarded On The Ferry. We Can Arrange Private Charters Between Port Blair – Havelock At An Extra Cost For A 01 Way Trip. This Is A Super Fast Boat And Can Take Maximum Of 06 Passengers (Cost Remains The Same For 01 Or 08 Passengers). The Travel Time Is Between 1-1.5 Hrs. All The Eco Tours And Activities Are Subject To Weather Conditions. All Sightseeing Trips Are Dependent On The Date And Day As Places Have Separates Dates On Which They Are Closed. In Case We Are Not Able To Show A Particular Place From The Itinerary We Will Offer A Refund To The Cost Of The Entry Ticket Only. Please Note That Whereas We Undertake To Provide You With A Place On The Sailing, A Fixed Seat Is Sometimes Not Possible And You May Have To Travel On Deck. By Default We Book Only The Base Category In Government Ferry. Ferry Timings Are Subject To Change At The Government'S Discretion, And We Assume No Liability For Disruption In Schedule Owing To The Same, Although We Will Do Our Best To Implement Your Itinerary To The Fullest And Provide You With Commensurate Back-Up Options In Case You Are Stranded For (Say) The First Night At Port Blair, In Lieu Of Accommodation At Havelock. Indo Travels Merely Assist Guest With Transfers And Incase Of Non Availability Of Tickets Or Cancellations Our Liability Is Limited To The Value Of The Ticket. We Will Certainly Assist In Arranging Alternates And Offer The Same To The Guest Payment For Which Can Be Made Directly. Points To Note For Mv Makruzz: Kindly Note That We Do Not Guarantee The Sailing Of Mv Makruzz And In Case It Does Not Sail Due To Bad Weather Or A Technical Snag We Will Not Be Held Liable For The Same. Our Liability Is Only To Value Of The Makruzz Ticket And If Any Loss Or Extra Payment For Extra Services Needs To Made Barefoot Will Not Be Liable For It. Please Note That The Charges Mentioned Are Only For The Base Category 'premium' And In Case The Same Is Not Available, We Shall Try And Block You Either On The 'deluxe' Or 'royal' Category And The Difference For The Same Can Be Paid On Arrival. We Offer To Book Only The Premium Category In Our Standard Package.





Latest Tour Packages by
The Himachal Valley