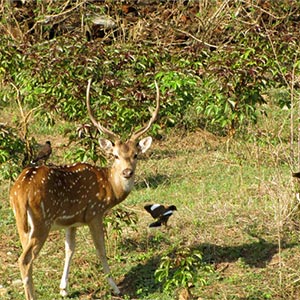 Overview
Location-
The sanctuary is situated at Akole Taluk, in the district of Ahmednagar, Maharashtra.
Best Season-
August-December,
Chief Attraction-
Various forts and peaks.
Explore the wilds of Kalasubai Harischandragad Wildlife Sanctuary!
Kalasubai Harischandragad Wildlife Sanctuary is situated at Akole Tehsil, in the district of Ahmednagar. The sanctuary is placed among the Sahyadri hill ranges and offers a picturesque scene. The Kalasubai peak has an altitude of 1646m and is the highest peak in Western Ghats. It is an ideal place for people who want to enjoy the beauty of nature far away from the hustle & bustle of city life. The sanctuary has various temples, peaks and forts that make it a place of rich past. Some of monuments located her are Alang, Kalasubai, Kulanggad, Bahiroba, Harischanragad, Madangad, Ratangad and many more. All this makes the sanctuary an ideal place for trekkers.
Flora & Fauna
The place is very rich in natural vegetation cover and abounds in various species of plants and trees. Mostly the vegetation is southern moist mixed deciduous and in places that are near to the western coast the vegetation is semi deciduous shrub savanna and semi evergreen type. Some of the common species of trees found here are Aashind, Gulchavi, Parjambhual, Hirda, Bahava, Beheda, Kudal, Avali, Jambhul, Siras, Chandawa, Lokhandi, Kharvel etc. There are various bushes around like Dhaiti, Mandar, Chilhar, Ber, Rametha, Kadipatta, Karwand etc. In some areas of the sanctuary large patches of different species of grass occurs. Some of the grasses found here are Pawanya, Harali, Marvel, Surad, Dongari etc. The sanctuary is a dwelling place of various species of animals that include reptiles, mammals as well as the birds. Some of the common mammals found here are Palm civet, Wolf, Jackal, Barking Deer, Leopard, Mongoose, Jungle cat, Wild Boar, Hyena, Bats, Sambar, Porcupine, Indian Giant Squirrel etc. The reptile group includes Fan-Throated Lizard, Monitor Lizard, Turtles, snakes and many more. One can also see around both land birds as well as the water birds. Some of the common birds seen around are Egrets, White Necked Storks, Water hen, Herons, Black Ibis etc.
Other places to visit
Bhandardara dam-
Famous for the Umbrella fall.
Randha fall-
It falls from a height of 45m.
Shiva Temple-
It is located at Amriteshwar.
How to reach!
Rail-
The closest railway station is located at Ghoti in Mumbai.
Air-
The closest airport is located in Mumbai.
Road-
The place is well connected by road and one can easily find a bus from Bhandardara.