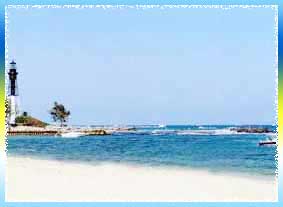 Pompano Beach is a small city located in the Broward County, Florida. The beach runs along the Atlantic Ocean just north of the
famous Fort Lauderdale.
The beach is around 3.5miles long and comprises of various natural vegetation. From the beach one can view the beautiful Hillsboro Lighthouse. Millions of tourists visit this beach due to its beauty as well as for collecting the Broward County's gems. There are various hotels nearby where one can find an affordable lodging.
Pompano Beach: On Scales
Pompano Beach although not being a very large area yet besieges extravagant natural mystics. Pompano Beach is 57 km