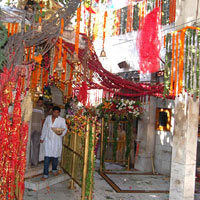 Mata Chintpurni Devi Darshan - Chhinnamastika Shakti Peeth
Destination Covered
Price Per Person

On Request
Day 1 :

Arrive at destination point and than move to maa Chintpurni temple.

Other Benefits (On Arrival)

Description :

Chintpurni is a major pilgrimage center and one of the Shakti Peethas in India. The Chintpurni shakti peeth (Chhinnamastika shakti peeth) is located in Una district Himachal Pradesh state, surrounded by the western Himalaya in the north and east in the smaller Shiwalik (or Shivalik) range bordering the state of Punjab.

[1] The Chintpurni Shakti Peeth is dedicated to the temple of Chinnamastika Devi or Chinnamasta Devi. Chhinnamasta or Chinnamastika temple is one of the 7 major and 51 total Shakti Peethas.

[2] Here, Chhinnamasta is interpreted as the severed-headed one as well as the foreheaded-one.

[3] Pandit Mai Das, a Kalia Saraswat Brahman, is generally believed to have established this shrine to Mata Chintpurni Devi in Chhaproh village twenty-six generations ago. Over time this village became known as Chintpurni after the eponymous deity. His descendants still live in Chintpurni and perform archana and puja at the Chintpurni temple.

According to the Kalia family lore, Bhakta Mai Das's father lived in Athoor village in the princely state of Patiala. He was an ardent devotee of Goddess Durga. He had three sons called Devi Das, Durga Das and Mai Das. The youngest one was Mai Das. For various reasons, the family moved to village Rapoh, near Amb (now in District Una, Himachal Pradesh). Just like his father, Mai Das was an intense devotee of goddess Durga and spent much of his time in Durga puja, bhajan and kirtan. His brothers were not too happy with him as Mai Das did not spend much time on affairs of this world. However his father made sure that his worldly needs were met.

Location and travel information

Chintpurni is situated at the altitude of 940 metres and is part, Una district, Himachal Pradesh. The temple is situated on one of the highest peaks of the Sola Singhi range of hills. It is about 3 km west of Bharwain which is located on the Hoshiarpur - Dharmashala road. This road is part of the State Highway network and is normally kept in good shape throughout the year.
Private vehicles are usually not allowed beyond the Chintpurni bus stand which is about 1.5 km from the Temple. You would have to walk this distance. About half of this distance is up a gentle incline and through a very busy market.

The temple is open from 4 am to 11 pm.

Weather

Spring : About mid-February to mid-April. The winter starts losing its bite around mid-February.
Summer : Mid-April to end of June. It is hot in summer and light cottons are recommended.
Rainy season : July - September. Still quite warm and, of course, humid. Lots and lots of rain.
Autumn : October - November. Days are pleasantly warm, nights are cool. May need light woollens at night or early mornings.
Winter: December - January. It is quite pleasant during the day and you may get by with one layer of woollens. The winter nights are cold and an extra layer of woollens is required.
In general, temperature in Chintpurni is about 5 degrees lower than in the Punjab and Haryana plains and in Delhi. In 2012,it had a chilling winter as there was a snowfall, reported after a period of 52 years, leading to road jams.







Latest Tour Packages by
Blossom Tour & Travels