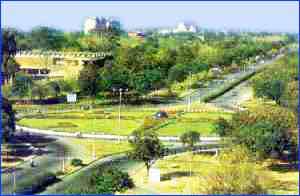 Chandigarh is an important union territory of India. It is the only city in India that serves as the capital of two adjacent states, Haryana and Punjab. But is it not part of either of the state and is administered by the central government. The name Chandigarh means "Fort of the Chandi". The name has come from the ancient Chandi Mandir (temple) near Chandigarh.
Chandigarh is a mark of distinction on the map of India, being the first well-planned city of independent India. It has organized infrastructure, which is of great help to the people as well as tourists of Chandigarh. Chandigarh enjoys a picturesque location with its vast expanse of blue sky and the magnificent Shivalik range being its backdrop.
Chandigarh Tours are very popular among both national and international tourists of India. Mid-August to November is the best time to travel in and around Chandigarh. Yachting, rowing and picnics are the best enjoyed Activities in Chandigarh by the tourists.
This online portal is meant to serve the purpose of Chandigarh Travel Guide as best as possible.