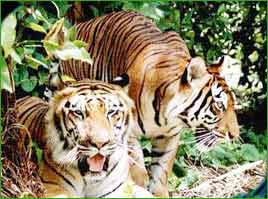 Geographical Location
Krishna Sanctuary is situated near the village of Avanigadda and covers the area of both the districts of Guntur and Krishna. Krishna Sanctuary is at a distance of around 80kms from the city of Vijaywada.
Chief features
Krishna Sanctuary is located in estuary of river Krishna and covers a wide tract of land i.e. 194.81square.kilometers. The place is fully covered with rich mangrove forest and abounds in natural vegetation. The best time for visiting the place is between the months of October to February. Below listed are some attributes that make the place a perfect tourist destination.
Flora-
The sanctuary is one of the mangrove habitats that one can find in Andhra Pradesh. The dense mangrove forest runs along the bank of river Krishna. It is enriched with various type plants that include spinifex squarrosus, pongamia pinnate, leptadenia reticulate, date-palm and many more.
Fauna-
Krishna Sanctuary serves as a home to various species of animal. While travelling through the forest one can easily see various animals like sambar, spotted deer