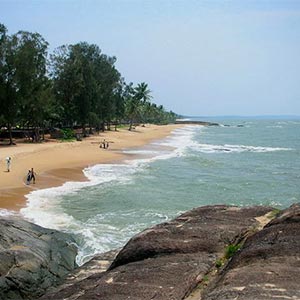 Kappad beach is locally known as Kappadkadavu. The beach is famed for nonpareil beauty and rich heritage of the past. Kappada beach was the first beach where Vasco Da Gama paved the way to Europe. The geographical beauty is very unique as is filled with multi-shaped rocks. When one comes to the beach, then must see the temple built on the rocks that is almost 800 hundred years old. Its prolonged rocks cover almost the entire sea coasts. One can reach the place by any means as is accessed by rail, bus and airways. Also, no need to worry to stay here as there is ample accommodations for everyone.
Kappad Beach: Look Back
Kappad beach was the first place where Vaso Da Gama stepped first in India. Western people loved the beach
Rock Fornations
The various rock formation in varied shapes and size dotting the beach location are the most interesting sites at Kappad.
The Temple on the Rock
This temple situated on the rock (extended into the sea) is one of the charms located at the Kappad beach. The temple is believed to be 800 years old.
A Pillar
Vasco Da Gama, a Portuguese explorer landed on the Kappad beach with 170 men in three vessels on 27th of May, 1498. A solitary pillar commemorates the event with the inscription, "Vasco da Gama landed here, Kappakadavu, in the year 1498".
Oceanic Activities
You can try your hand in fishing and swimming. Korapuzha river near the beach is a well spin off as a backwater. Or you can just stroll by the seaside or laze under the sun.