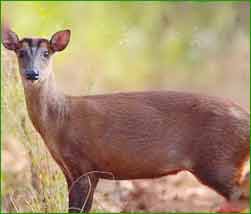 Fast Facts
Area Covered-
540square.Kilometers.
Location-
BR Hills Wildlife Sanctuary is located between the two rivers i.e. River Cauvery and river Tungabhadra at Kemmannagundi, in Karnataka.
When to Visit-
The time period between Septembers to May is the ideal time for visiting the sanctuary.
Geographical features
B.R Hills Wildlife Sanctuary is located at the height of around 5091feet and about 3,375feet above the sea level. The sanctuary covers an area of 540square.kilometers and is densely covered with deciduous forests. B.R Hills Wildlife Sanctuary serves as a link between both the Western Ghats as well as the Eastern Ghats. The sanctuary runs along the river Cauvery and this river flows towards the south eastern side. At kollegal, the river Cauvery takes a sudden turn and again returns back to its starting point. The unique position of the sanctuary has helped it to provide shelter to various rare species of vegetation.
Flora & Fauna
B.R Hills Wildlife Sanctuary holds varied type of vegetation cover that includes evergreen, deciduous & grassland vegetation. The sanctuary offers shelter to different species of animals, some of which belongs to the rare species. The chief attractions of the sanctuary are the gaur, chitals that are found in large numbers. Excluding the above two, one can also view other animals like elephant, jungle cat, leopard, porcupine, bonnet macaque, spotted deer, sloth bear, tiger, mongoose, Malabar giant, sambar, common langur and many more.
Avifauna
The sanctuary is a home to around 270 species of different types of birds. The most common one that one can easily see around are racquet-tailed drongo, whistling thrush, crested hawk eagle, yellow throated bulbul, etc.
Other Activities & Trips
In addition to above attraction, one can also take full advantage by taking part in various activities like amateur fishing, river rafting, coracle boat rides, outdoor camping, trekking etc. The best mode of exploring the sanctuary is by walking, but one can also travel by an elephant ride or jeep safari.
Festival
If one is visiting the sanctuary in the month of April than he/she can also witness the fantastic Ratha festival that occurs at the BR Temple.
Accommodation
One can easily get a comfortable lodging i.e. ranging from the cheap ones to the luxurious ones. If one needs the cheaper one than the small huts are the best option and in case of luxurious one, Maharaja's Bungalow is the option.
Accessibility
Road-
The place is easily accessible by road as it is only 100km from Bangalore and 85kms from Mysore.
Air-
The closet airport is located at Bangalore.
Rail-
The closet station is at Bangalore.