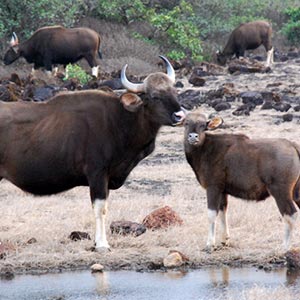 Fast facts
Area Covered-
351.16square.kilometers.
Chief attraction-
Bison.
Location-
The sanctuary is situated at a distance of 52kms from Panhala, in the district of Kolhapur, Maharashtra.
Know Radhanagari Wildlife Sanctuary!
Radhanagari wildlife sanctuary is situated in the District of Kolhapur in Maharashtra. The sanctuary is located in the area that exists between the two chief reservoirs i.e. Laxmi sagar and the Shahu sagar. The sanctuary spreads over an area of around 351.16sq.kms. The place is very steep at some places and is very rich in bauxite ore. The best time for visiting the place is between the months of March-May.
Flora-
The sanctuary is very rich in natural vegetation cover and comprises of various forests like Southern moist mixed deciduous forest, southern semi evergreen forests and southern evergreen forests. Below given are some common species of plants & trees found.
Chief species of trees
Umbar,
Bhoma,
Ain,
Awala,
Jambul,
Anjani,
Hirda,
Kumbha,
Pisa,
Nana, etc.
Chief species of medicinal plants
Karvand,
Tamalpati,
Dhayati,
Narkya,
Vagati,
Kadipatta,
Toran, etc.
Fauna-
The chief attraction of the place is the bison, which are present in large numbers. Other species of animals include Leopard, Barking deer, Sloth bear, Mouse deer, Wild boar, Sambar, Wild dogs, Giant squirrels etc.
Avifauna-
One can also see various domestic as well as migratory birds around the place. Some of the birds seen here are Kingfishers, Vultures, Jungle fowl, Owls, Bee-eaters, Sand pipers, Doves, Hornbills, Bulbul, Woodpeckers, Wagtails, Flycatchers, sunbirds etc.
Accessibility
Rail-
The closest railway station is located at Kolhapur (55kms).
Air-
The closest airport is situated at Kolhapur (65kms).
Road-
The sanctuary is well connected by road to major places.