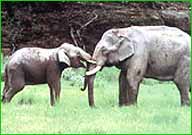 General Information
Location-
The Shenduruny Wildlife Sanctuary is located at a distance of 66 Kms from Kollam, along the Kollam - Shencotta road.
Area Covered-
250square.kilometers.
Date of Establishment-
1984.
Know Shenduruni Wildlife Sanctuary!
Shenduruny Wildlife Sanctuary is located along the Kollam-Shencotta road and was established in the year 1984. The sanctuary got its name from the tree named Chenkuruny (gluta travancoria) that are found only in this region. A big dam known as the parappar dam is built across the rivers of Kulathupuzha and shenduruny. The dam leads to the formation of an artificial lake at central region of Shenduruni Wildlife Sanctuary.
Wildlife
Shenduruny Wildlife Sanctuary shelters a wide array of animals that include tigers, bears, leopards, elephants, lion tailed macques etc. One can also see various species of birds that migrate to this place for nesting and breeding.
How to Reach!
Air-
The closest airport is at Thiruvananthapuram (72kms).
Road-
The place is well connected by road to major places.
Rail-
The closest railway station is at Thenmala.