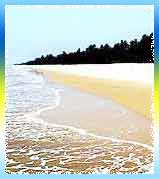 Location
Kurumgad Island is one of the reclusive Islands located around 4km from main land, in the state of Karnataka.
About Kurumgad Island
Kurumgad Beach is shaped like a tortoise. It is a perfect place to avoid all the commotion of the city life and thus enjoy the untouched beauty of the Mother Nature at is best. No matter, whether one is young or old, Kurumgad beach serves as an ideal place for leisure to people of each and every age. One can go to view the beautiful abandoned lighthouse located near the beach. The beach is a very beautiful & enchanting and one can see various creatures like the dolphin, otters, etc. around the beach. The period between Octobers to may is the ideal time for visiting the place.
Chief attraction
The chief point of attraction is the famous
Narasimha temple
a common place of visit for devotees, generally during the Jatra festival that is celebrated each and every year on the Pushya Purnima night.
How to reach!
Road-
The beach is well connected by road and is around 524kms from Bangalore.
Air-
The place is easily accessible by airport.