Allahabad - Varanasi Tour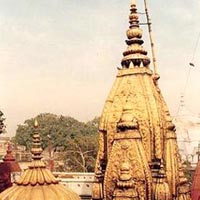 Allahabad - Varanasi Tour
Package Duration

5 Days / 4 Nights

Destination Covered

Allahabad - Varanasi
Description :

Allahabad
Allahabad is the seventh most populous city in Uttar Pradesh and recently was ranked the world's 130th fastest growing city. Also known as the "city of Prime ministers", post independence, 7 out of 13 prime minister of India belonged to Allahabad. All these seven leaders were either born in, were alumni of Allahabad University, or got elected from a constituency in Allahabad. The city's original name Prayaga comes from its position at the sacred union of the rivers Ganges, Yamuna and Saraswati. It is the second-oldest city in India and plays a central role in the Hindu scriptures, containing many temples and palaces.
Varanasi
Varanasi is situated on the banks of the Ganges, 320 kilometers southeast of Lucknow. It is regarded as a holy city by Hindus, Buddhists and Jains as it is one of the oldest continuously inhabited cities in the world and the oldest in India. The Kashi Naresh is the chief cultural patron of Varanasi while the culture of Varanasi is closely associated with the River Ganges and the river's religious importance. The city has been a cultural and religious center in North India for thousand years. The Benares Gharana form of the Indian classical music developed in Varanasi with many prominent Indian philosophers, poets, writers, and musicians.

Package Includes :

01 Night accommodation in Allahabad
02 Night accommodation in Varanasi
03 Breakfast, 03 Dinners at hotel
AC Indigo car for Pick up and drop from Station and sightseeing in Allahabad and Varanasi
Transfer by Indigo car from Allahabad to Varanasi
All Taxes / Toll/ Parking Etc. Except GST 4.09%

Package Excludes :

Anything which is not included in package inclusion.
Any kind of insurance.
Any other inclusion which is not mentioned in package inclusion
Tip to driver and guide.




Day 1: Delhi - Allahabad

Meals: No Meals




Departure from New Delhi Railway station by Prayag Raj Express Departure at 21:35 Arrival at 06:45.

Day 2: Allahabad

Meals: Dinner




Arrive Allahabad Station at 0645 hrs 25/2/2014. Pick up from Railway station and transfer to hotel. Check in at hotel and later proceed to Triveni Sangam for sacred bath. Visit Anand Bhavan, Hanuman Temple. ( Lunch on your own) After lunch proceed to Visit Khusrao Bagh and day is free for individual activities . Arrive Hotel in evening .Dinner at Hotel.
Overnight stay at hotel in Allahabad.

Day 3: Allahabad - Varanasi ( Distance 125 Km travel time 2.30 hrs.)

Meals: Breakfast and Dinner




Morning breakfast at Hotel in Allahabad and proceed to Varanasi by Car. Arrive Varanasi and Check in at Hotel. Later Proceed to Visit Kashi Vishwanath Temple. The most sacred temple in Varanasi is the Vishwanath temple, located at Vishvanath Gali dedicated to Lord Shiva. Hindus believe Shiva lives here, so it's far too holy a place for non-Hindus to view, the followers of other religions are permitted a view from the Naubat Khana (seat of temple choir). The shivalinga at the Vishwanath temple is among one of the 12 Jyotilinga. The most sacred ghats are the Asi, Dasashwamedh Ghat, Manikarnika and Panchganga. Pilgrims who bath in each one consecutively believe their prayers will be fulfilled. A short boat trip from Manikarnika Ghat can be an interesting introduction to the river. Lunch on your own. Rest of the Day is free for individual Activities. Arrive Hotel in evening. Dinner at hotel. Overnight stay at hotel in Varanasi.

Day 4: Varanasi

Meals: Breakfast and Dinner




Morning breakfast at hotel and proceed to visit Sarnath Temple, Durga Temple, Tulsi Manas Mandir. Lunch on your own. Day is free for shopping at Varanasi or individual activities. Arrive hotel in evening. Dinner at hotel. Overnight stay at hotel in Varanasi.

Day 5: Varanasi

Meals: Breakfast




Morning breakfast at hotel and later transfer to Railway station for onward journey.
Departure by Kashi Vishwanath Express. Departure at 13:45 Arrival at Delhi 0610 hrs. Travel Time: 16:25 hrs.

Package Terms & Conditions :

Non utilized services are non refundable.
Once tour is confirmed subject to cancellation
We reserve the right in case we could not get confirmed hotel mentioned in tour we will change the similar hotel.





Latest Tour Packages by
Unique Holidays