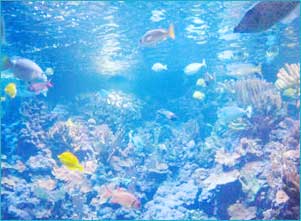 The term beach refers to a large tract of land that is found in coastal areas. Such coastal places are regularly eroded by the strong currents or wave that carries back & than again deposit the sediments on such coastal areas. Beaches can also be found near rivers or lakes, where the erosion work is carried by the rainfall. According to the survey done, beaches have turned out to be the favorite tourist destination all around the globe.
Beach serves as an ideal place, where one can fully enjoy the flavors of life. Spending some time on beaches not only refreshes one's body but also gives a new dimension to one's mind. There are various types of beaches like romantic beaches, family beaches, tropical beaches, marine life beaches etc. Let's throw some more light on the term marine life beaches.
Marine life beaches refer to all those beaches that are widely renowned for the unique and diverse marine life that they possess. Marine life forms a very integral part of a person's life. Marine lives are one of the chief resources that provide food, medicines, raw materials etc. to the human civilization. The other important aspect of marine life is that they boom up the tourism world. Marine life beaches bring man closer to marine life and makes man understand the importance of it in one's life. Marine life beaches are similar to other beaches in the ecosystem that they have. Most of the marine life beaches are lined with a wide array of palm and coconut trees along with various plants.
Marine life beaches offer a wide range of activities, which always liven up the body and soul. Diving is the perfect activity through which one can see the marine life that exists under the water. One can explore various unknown places and learn more about them. There are various marine lives that one can view, while visiting a marine life beach.
Fishes
These are the most common type of marine life that one can see while visiting a marine life beach. There are various species of fishes like sardines, anchovy, clownfish, tuna, bottom fish etc.
Reptiles
One can see various reptiles like sea turtles, sea snakes, marine iguanas, saltwater crocodiles etc. Most of the reptiles come on the beach side to lay their eggs and thus one can easily see them.
Marine mammals
Marine mammals are the chief point of attraction for travelers. From the marine life beach, one can see various marine mammals like whales, dolphins, sea lions, walrus, sea otters, baleen and many more.
In addition to this, one can see various marine lives like marine birds, marine plants & algae etc. on visiting the marine life beaches.