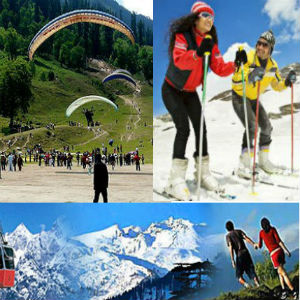 With hundreds of miles of alluring trails, hill stations are not only the best way to beat the heat, but also a mecca for travelers who love to indulge in outdoor activity. With so much on offer starting from delicious food to fantastic vivid backdrops, hill stations make for a perfect holiday getaway.
Apart from the stunning scenery and pleasant climate, hill stations also provide tourists access to a wide array of outdoor activities. From Trekking to Mountaineering to Paragliding to other Snow Sports, you name it and hill stations have it all.
For those willing to escape from the monotony of daily life and the traps of the concrete jungle, hill stations offer great scope for hair raising thrills and adventure. With steep rocky cliffs and mountainsides, rock climbing is possibly the best adventure sport to keep your adrenaline levels pumping. In addition to rock climbing, trekking and hiking provide a great alternative to explore the hills on foot.
With every trekking experience you can assimilate the unique flora and fauna native to the hill stations. Thus, when it comes to rock climbing in India, Manali, Darjeeling and Sahyadri hills offer the best terrain experience.
River rafting is another popular hill station activity. Imagine that thrill and excitement of riding a raft on the high rapids with spray of water hitting your face. Hill Stations in Himachal Pradesh, Uttarakhand and Karnataka provide a great river rafting experience to the travelers.
For those who wish to try something unique, Paragliding is a wonderful activity to consider. With suitable altitudes, terrains and perfect wind currents, Paragliding is a must-do for all adventure seekers. Himachal Pradesh, Maharashtra and Nandi Hills (in Bangalore) are considered excellent for paragliding.
Yet again for snow lovers, skiing on the gentle snow laden mountains of a hill station is possibly the best idea for an adventure holiday. Gulmarg, Manali and Auli (in Uttarakhand) are considered great places for snow lovers to practice skiing. From totally novice to experienced skiers, there are several skiing options for everybody. All you need to do is to put those ski shoes on & enjoy the thrills.