Climbing Kilimanjaro Rongai Route Tour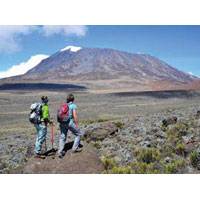 Climbing Kilimanjaro Rongai Route Tour
Package Duration

6 Days / 5 Nights

Destination Covered

Mount Kilimanjaro
Description :

Climbing Mount Kilimanjaro through rongai route has scenery, comfortable and success.

Mountain climbing is a kind of adventure which needs physical preparedness and mind set
Mount Kilimanjaro is a mountain in the world which is very famous due to permanent snow peak, geographical formation and plants; this was proved in 2011 when it was selected to be one of 14 finalists for New 7 wonders.

Kilimanjaro climbing trips takes place between its routes designated to reach its summit. Kilimanjaro trekking and hiking success depends on choice of route and weather.

Rongai route approaches Kilimanjaro summit from North side, it is scenic and least used Kilimanjaro climbing route. Rongai route has untouched nature and is one of easiest and quickest route to reach Kilimanjaro peak, Kibo.

Package Includes :

Airport transfers on arrival.
Overnight in Hotel on arrival.
All entry fees.
Accommodation in the mountain.
Guides and porters.
Rescue fees.
All meals.
Clean safe water.




Day 1: Mount Kilimanjaro

Today we transfer to Marangu headquarters of Mount Kilimanjaro for Registration and official formalities. Then we proceed to the start of the Rongai route, close to the Kenyan border, where we begin trekking Kilimanjaro. The first night will be camping at the first cave.

Day 2: Kilimanjaro

The climbing today is a gradual ascent and we get great views of the plains of Kenya below and the spectacular Mawenzi Tarn above. We get up to a height of 3800m today where we camp for the night by the Third Cave.

Day 3: Kilimanjaro

We have an extra day for acclimatization. This is spent in the vicinity of Third Cave taking gentle walks.

Day 4: Kibo Hut

Our climb today takes us through the lunar desert of the Saddle, the lava-covered expanse between the two peaks Mawenzi and Kibo. By the end of the day we reach Kibo Hut at 4700m where we camp overnight and rest, ready for the ascent the next day. Take your Meals and overnight at Kibo Hut.

Day 5: Horombo Hut

We have a very early start for the final ascent, leaving the hut in the middle of the night to arrive at Uhuru Peak just after dawn. It is a 4 to 5 hour slow walk up increasingly steep scree to Gillman's Point at 5690m followed by a further 1 to 2 hour walk around the crater rim to Uhuru Peak at 5895m. Take few minutes to make your memorable photos and scenery. After taking in this amazing view we return by the same path past Kibo Hut and on downs the Marangu Route all the way to Horombo Hut.

Day 6: Arusha Town

It just takes us about half the day to descend back down to the park gates at Marangu. Here we will be met and transferred back to Moshi or Arusha Town.





Latest Tour Packages by
Kilimanjaro Travel Adventure Safaris Ltd