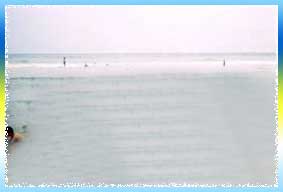 Vgp golden beach is thirty kms away from Chennai. It is a family beach resort cum amusement park having a lot of entertaining games for children. The beach is named so because of the golden colored sand present on the beach. The place is flocked by people from all age groups in order to have the real entertainment.
About Vgp Golden Beach
VGP group was started in the year 1955 as a partnership concern under the able guidance of Mr. VG Panneerdas. It was the result of great hard work of Mr. VG Panneerdas that this great beach resort came into existence. It takes around twenty minutes to reach here. The place occupies landscape of thirty three acres. The resort is equipped with well managed cottages. Vgp golden beach
which is second longest beach in the world was the first one in India to establish a beach resort. Every year more than 2 million visitors come to enjoy its beauty. Inside Vgp Golden Beach There are two main halls, called "Golden Chakra" and "Pandian" for various purposes like receptions, cocktail parties, product launches, sales conferences or board meetings. It is a beach resort with a difference and looks like a small township with uniquely designed cottages that reflect the true Indian culture and by providing world class luxuries. Utmost care is taken to provide complete privacy to guests. People get to experience the ultimate joy while walking barefoot on the golden sand. There are in all eighty cottages that are spread across twenty acres of land for various purpose such as organizing some seminars or conferences. Staying at Vgp Golden Beach Apart from such wonderful amusements, Vgp Golden Beach has got some of the world class resorts. These resorts are known for their matchless services that have been acclaimed by tourists from everywhere. These resorts are very near from the beach and can be accessed by foot.
Universal Kingdom-Amusement Park
With a view to provide fun and frolic to the two millions tourists flooding to the VGP Golden Beach Resort every year, VGP Universal Kingdom was created in the precincts of Golden Beach.
The VGP Golden Beach Universal Kingdom has been a trailblazer in the field of fun, frolic and entertainment. It has a charm of its own with cool breeze and beautiful pathways flanked by shady trees amidst green lawns.
Fun with Rides
The Amusement Park designed to appeal to the young and old, has several thrilling and mind blowing rides like Super Fast Tora Tora, Jumping Frogs, Water-Chute, Dashing Cars etc., Also there are a host of exciting rides for young children. For fun and entertainment, the young and adult citizens will be enthralled by the numerous revamped additions in the play park. The spectacular Go-kart, Dashing Car and Water Chute comprise the premium rides.

Regular cultural shows, folk and contemporary dances add a special cultural touch. Special additions for sight seeing such as Jurassic Park and Aquarium offer education with fun. All resident guests can use the swimming pool, located by the seaside, at no extra cost.
The Story and History
VGP secured a job as an Assistant in a grocery shop for a pittance of Rs. 3/- a month. By hard work, with head and heart, he soon established his own teashop. Not content with just that and bolstered with the arrival of his younger brothers, VGP tried many new avenues of trade, like crosswords, calendar agency, newspaper vending ... to what seemed final then to the business of consumer durables. He pioneered the idea of "Buy now ... pay later" which is such a rage today.

VGP's whole family now joined him in his endeavors, followed by all the sons of the family. He zoomed to greater heights, selling housing plots, building townships, beach resorts, operating a chain of ultra modern departmental stores dotting the nation, setting up "state of the art" video duplicating plant, Travel and Tourism etc. Now the Midas touch was evident. He made VGP a household name and his ventures into a Corporate Business House. Honor, hard work, honesty and humanity were the cornerstones of his ceaseless pursuits.
VGP is one of the most well-known and successful business houses that has spelt class and dependability of services. It enjoys a tradition of trust with the masses for over 4 decades. VGP's reach extends to five continents, building up an enviable customer base, which keeps growing year after year. It is truly a vibrant group with a multi-dimensional approach.
Ecstasy Land
Ecstasy Land is an integrated complex offering Banquet and Conferencing facilities, dance floor for discotheques, stage with open-air seating, Bar and an almost private beach.

This is a perfect for corporate entities to organise "Retreats" to reward their employees for exceptional performance. Daylong retreats amidst the lush green lawns, sandy beaches, swimming pools and comfortable air-conditioned halls will forever remain fresh in their minds. One can play beach games, swim, frolic, meet, discuss, drink and eat to ones hearts content.

It is an ideal place for the complete family to have a fun-filled day.