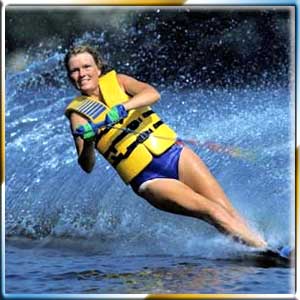 Skiing is a term used for a set of sports which utilize skis as chief equipments. Skis are utilized in combination with boots which are connected to the ski with the help of a binding. Though snowboarding is almost the same as skiing, but since it originated form skateboarding and surfing, it is not regarded as a kind of skiing. There are basically two categories of skiing which include:
Nordic Skiing:- Nordic skiing is the oldest type of skiing and it consists of the sport which generated from the skiing done in Scandinavia. Other distinguishing factor about Nordic skiing is that the Nordic style bindings get attached only to the toes of the boots of skier and not with the heels.
Alpine Skiing:-Alpine skiing comprises of the sport which generated from the skiing done in Alps. In Alpine skiing the bindings get attached to both the toes and heels of the boots of skier. Earlier skiing was just a way of commuting, but with the time it emerged as a sport and then also as a competitive sport. Various types of competitions for skiing are also held by Winter Olympic Games, International Ski Federation (ISF), International Olympic Committee (IOC) and also some other sport organizations.
Some Famous Types of Skiing
Alpine Skiing:- Alpine skiing was developed in the year of 1889 in Alps. Skiing is usually referred to as alpine skiing only where a person comes to a ski resort, buys a lift ticket, puts on skiing clothes, skis & ski boots and starts on any mechanical uphill transport. After reaching the summit the skier starts from the ski lift and propelling downwards due to gravity commence downhill along the route popularly called as a piste or a slope.
Cross Country Racing:- The name cross country skiing is derived from a kind of ski race which is one third flat, one third down and one third up. The name of the race distinguishes itself from other kinds of races and ski race competitions like slalom racing, downhill racing, and Nordic jumping. Cross country races are of two types i.e. classic or freestyle. In freestyle races any technique on skis and being human powered is allowed whereas in classic races all techniques are banned.
Alpine Freestyle
Back Country Skiing
Kite Skiing and Para Skiing
Military Skiing
Nordic Skiing
Randonnee Skiing
Ski Joring
Telemark Skiing
In order to learn skiing techniques which are quite difficult, one needs to join a ski school which teaches everything from basic to more advanced techniques. Basics include stopping and turning safely and advanced techniques comprise racing, carving, bump or mogul skiing and various new techniques of freestyle.