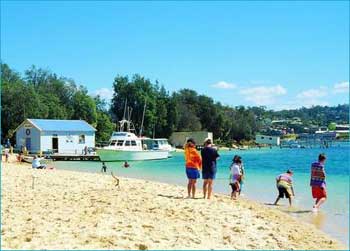 In today's world, beaches are reckoned to be the most common holiday destination. It is all because of various activities that one can perform or enjoy in a beach. The term beach refers to the tract of land that is present along the coastal areas, where the strong waves or current carries & deposits the sediments along the coast.
Beaches are composed of various loose particles that include sand, gravel, pebbles, cobble, shingles etc. Beaches can also be found along the land, which is bordered by a river or even a lake. In such cases, the erosion work is regulated by the rainfall. There are various types of beaches like exotic beaches, marine life beaches, family beaches, romantic beaches and many more. Let's throw some more floodlights on the term family beaches.
As the name suggests, family beaches refers to those beaches which are ideal for families. Family beaches provide the ideal opportunity to the family members to mingle with each other. It brings the parents closer to their kids and vice versa. There are various restaurants & bars along the beach, where the family can taste the delicious sea food.
Family beaches offer a wide array of sports activities both for the old as well as the young. If one is looking for a family game or activity than the game of volleyball would not be a bad idea. The family can also go for sailing, fishing or swimming. Some family beaches also offer activities like scuba diving, surfing, etc. Kids can enjoy rolling on the sand or building castles out of sand. Some beaches also provide additional features like museum, where the family can know each and every thing about the beach or water world.
Before going on any such vacation, the family should plan before hand and get equipped with all the necessary items. Below are some common tips, which would help the family to spend a safe and comfortable vacation on the family beach.
Tips
Always choose the right family beach that suits the needs of the family. Check the weather of the place before going to any family beach.
Always carry large quantity of drinking water along and try to avoid the sugar drinks.
Check whether the beach provides rental facilities for umbrellas, chairs, coolers etc. If not than carry along with you.
Carry sunscreen lotions, sunglasses, hats, towels etc.
Do not allow the children to play alone in water, always be by their side.
Never get down in the open sea during the high tide.
Throw all the garbage in the dustbin.
By following the above given tips, the family can ensure themselves a fully safe and comfortable vacation on the family beach.