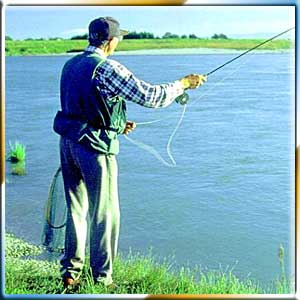 Today adventure games have earned new dimensions. More and more zeal and investment shows the prominence of the adventure games. Most eminent thing about the adventure games is that all of them are outdoors that makes human body fit and fine. Fishing and angling is also kind of adventure games. Fishing means catching fishes in lime or simple water. Although many people have a prejudice about the game that is quite boring but in reality is as fun as the other games like rafting. At top of that, in this one needs to be so muscular that means it is a common man adventure sport. Fishing and angling is finest way to spend leisure and give oneself a tranquilizing period of isolation. However, fishing and angling is an art that requires loads of skill and patience that is rare quality. Fishing and angling can be carried out any time in fish rich water. One has always choice while fishing that is to catch fish in the giant sea or simple lake or river. Both are unique and wonderful experiences. For fishing and angling one must have all the equipments ready like rods, etc. Let's go through their uses and relevance :
Boats- Getting a nice and burly boat is very important that has equilibrium and balance. Boats must have enough of space that can accommodate as many things required.

Rods- Good quality and having lengthy threads are required for fishing. Rods must have good grip that gives extra hold to the holder. Also, thread must be also burly that can hold any weighed fishes.

Hooks- Hooks are of many types, these depend upon one's choices. Metal of high class is required for hooks that are sharp.

Baits- this is the main thing that attracts fishes. Finding good and fresh is quite important for catching fishes. There are loads of spots in the world that are suitable for fishing and angling. Mainly sea coasts and rivers filled with wide variety species of fishes and marine lives. Sea coasts are generally packed with people fishing and angling. Country like India is also suitable for fishing and angling as Indian marine lives like fishes are numerous.

With the time fishing and angling has become some of the most enjoyable and adventurous sports. People in large no. are participating in these adventure sports with a great deal of passion. Fresh water or salty water, fishing and angling can be done any where and enjoyed for longer period of time. Fishing and angling tours are new attraction for tourists and trekkers all round the globe.