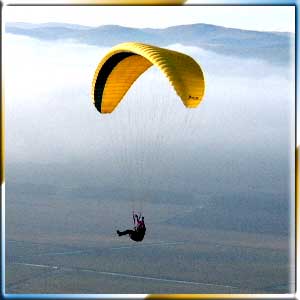 In the modern world adventures and people performing are highly valued. Trekking and many similar sports are popular amongst masses especially young people. Para gliding is one of the highly risky and enjoyable sports. In this game, paraglider (person who glides) jumps from the high flying aircraft and slowly glides. Later after gliding in the air, the glider lands on the grounds. In this whole procedure, paraglider is sufficed with wings composed of special fabrics generally umbrella shaped. The glider is specially designed that helps in gliding in air with the air-pressure. Air enters the wing and both ways pressure maintains the equilibrium assisting in flying.

Para gliding is one of the prominent sports in the world. Several para gliding competitions are held worldwide. The finest thing of para gliding is that men and women equally participate in this kind of adventure sports. These sports give deserving exposure to the pilots and also these competitions become platform for their skills and talents. However, para gliding is not as easy as it seems to be. One needs to be very careful as a single mistake and negligence may cause severe. That is why; proper training is given before para gliding. For para gliding, one must be fully equipped with stuffs like communication instruments, parachutes and also safety jackets. Also, one must check the air-pressure and climatic conditions as well. Checking climatic condition means knowing that the atmosphere is suitable for gliding or not. Safety is one of the major things considered and valued while para gliding. Whenever para gliding is carried there are people to guard you.

Professionals too prefer safer ways for para gliding. Para gliding is safer way and does not require huge space than other forms of gliding like hang gliding. Para gliding is carried with smaller gliders that are light and easy to cart. Other types of para gliding like power paragliding are also very popular and enjoyable. In this type of gliding, pilot is attached with a mechanical device that assists in gliding or flow in the air. In the modern times, para gliding has been one of the most enjoyable and lovable adventure sports. Paragliding is also highly admired in countries like India. in india, one can see loads of centers that provide paragliding training. Also, its fame in remote areas of the nation shows its prominence. In the coming times, para gliding is going to be the main adventure sports.