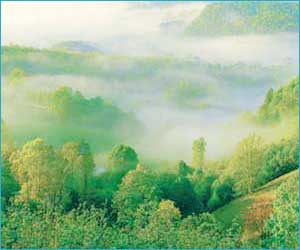 In today's world, tourism industry is reckoned as one of the most booming industry. Each and every day, various new places are being discovered and they are soon turning out into tourist destination. There are various places, where people travel to spend their holidays. Some people travel to places in search of thrill & adventures, while some travel so as spend some time with their family or loved ones.
The hustle and bustle of city life has urged people to spend their vacations in secluded places, where they don't have to deal with the commotion of city life. There are various geographical features, where one can find peace as well as adventures. Some of them are beaches, lakes, mountains, valleys etc. Let's throw some more light on the term valleys.
Valley also known as dale or vale refers to a deep depression with a chief extent in one way. A deep river valley is termed as a gorge or canyon. The base of the valley is termed as the floor of the valley and may be around 1-10 kilometers wide. The floors of the valleys are generally filled with the mountain sediments that fall from above and get deposited at the bottom.
Valleys can be classified in to three types, which are listed below :
V-Shaped Valley : V-Shaped valleys are also known as river valleys and they are formed by the flowing of water at high speed. The exact shape of such valleys varies with the characteristics of different streams flowing between it. When the river flows from steep slope then the valley has steep walls along with a narrow bottom. When the slopes are shallower then the valleys are much gentler with broader bottom. All the sediments carried by the river are deposited in the base of the valley, where a floodplain is formed.
U-Shaped Valley : They are also known as glacial valley as the valley is carved by the glaciers. After the valley forms, the glacier does not exist there. The shape of the valley depends upon the size of the glacier that flows through it.
Hanging Valley : It can be defined as a tributary valley, which has a floor at much higher relief as compared to that of chief channel into which the valley flows.
Valleys offer various activities like camping, trekking, climbing, river rafting, fishing etc. One can never be short of fun or adventures, while visiting a valley. Thus one can conclude that valleys are the ideal place for spending one's vacation far away from the hustle & bustle of the city life.